Old Forester 1870 Original Batch Whisky
loading eRetailer data...
In 1870 George Garvin Brown created Old Forester on Louisville, KY's, famous Whiskey Row. In honor of that milestone year in bourbon history, we have crafted a tribute – Old Forester 1870 Original Batch – the first expression in the Old Forester Whiskey Row series.
1870 Original Batch echoes George Garvin Brown's original batching process. Back then, Brown batched barrels obtained from three distilleries to create a consistent flavor profile. To emulate that process today, we also select barrels from three warehouses, each barrel originating from a different day of production, with a different entry proof and a different age profile. The three expressions of Old Forester are then batched together and minimally filtered to craft Old Forester 1870 Original Batch.
2020 International Wine & Spirits Competition - Silver
2019 Whiskies of the World - Gold
2019 American Whiskey Masters - Master & Taste Master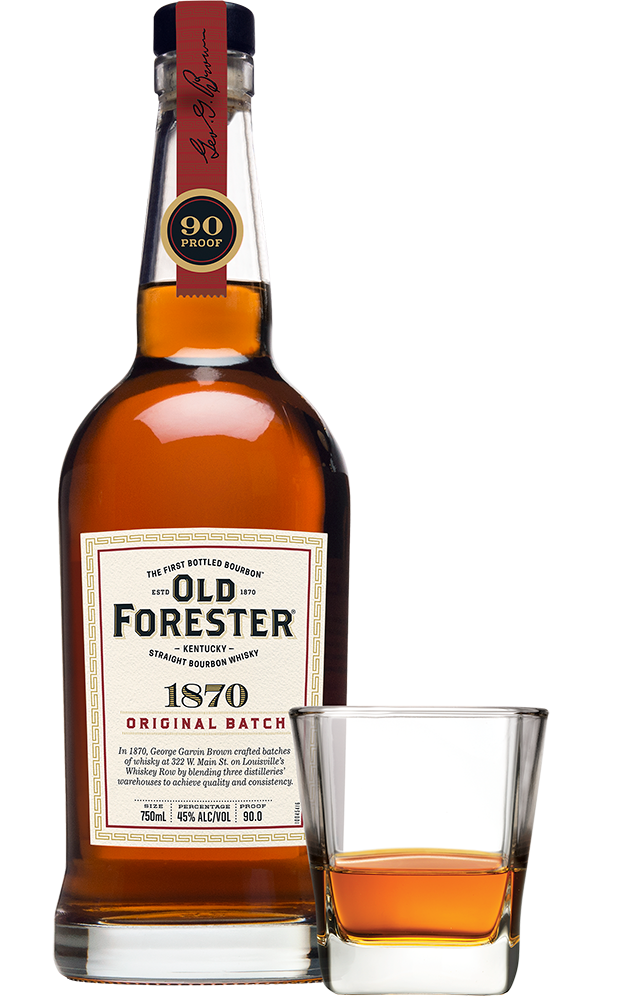 Aroma

Clove notes spice up a medley of citrus fruits (orange, grapefruit, blood orange), all softened with a delicate, sweet, floral honeysuckle character.

Taste

Baking spices (clove, cinnamon, nutmeg) flow into a citrus-fruit mix and shortbread sweetness.

Finish

Soft, with lingering fruit and spice character.
You won't find a
finer family.
Old Forester 86 Proof
Old Forester Rye Whisky
Old Forester 1910 Old Fine Whisky
Old Forester 1920 Prohibition Style Whisky
Old Forester President's Choice Bourbon
Old Forester Statesman Bourbon
Old Forester Mint Julep
Old Forester Single Barrel 100 Proof
Old Forester Single Barrel Barrel Proof
Old Forester Single Barrel Rye
Old Forester 2020 Birthday Bourbon
The 117 Series: High Angels' Share
Old Forester 1870 Original Batch Whisky
Old Forester 1897 Bottled in Bond Whisky
Old Forester 100 Proof