Old Forester President's Choice Bourbon
The President's Choice is a single barrel expression of Old Forester's most exceptional barrels, hand-selected by our company President.
The President's Choice was historically, and is today, driven by the palate and knowledge of Old Forester's current President. Each barrel in our modern iteration is personally chosen by President and fifth-generation Brown family member Campbell Brown. Referencing prior iterations of this historic label, these barrels will be typically aged eight years and will vary in the traditional range of 110-120 proof.
Because President's Choice expressions are hand-selected barrels which have showcased truly exceptional character and represent the foremost of quality, this bourbon will be released only when such distinct barrels come of full maturity and develop the exceptional taste profile deserving of this label. The finest selection of the world's finest bourbon.
This limited release product can be found at Old Forester Distilling Co. and select Kentucky retailers.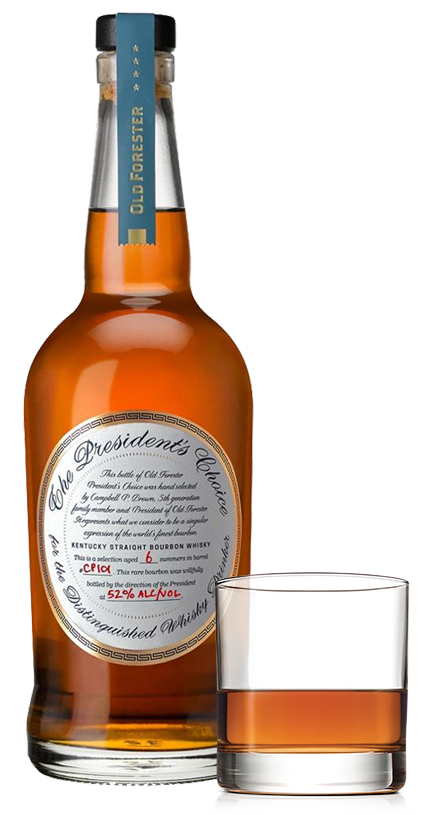 You won't find a
finer family.
Old Forester 86 Proof
Old Forester Rye Whisky
Old Forester 1910 Old Fine Whisky
Old Forester 1920 Prohibition Style Whisky
Old Forester President's Choice Bourbon
Old Forester Statesman Bourbon
Old Forester Mint Julep
Old Forester Single Barrel 100 Proof
Old Forester Single Barrel Barrel Proof
Old Forester Single Barrel Rye
Old Forester 2020 Birthday Bourbon
The 117 Series: High Angels' Share
Old Forester 1870 Original Batch Whisky
Old Forester 1897 Bottled in Bond Whisky
Old Forester 100 Proof