Old Forester 2020 Birthday Bourbon
Old Forester will release the 20th iteration of its limited-edition, vintage-dated Birthday Bourbon on Wednesday, Sept. 2 in celebration of founder George Garvin Brown's birthday. This year marks the 150th year of the company he began in 1870.
The 2020 Birthday Bourbon will be bottled at 98 proof and is made up of 95 barrels, aged 10 years, and barreled on June 5, 2010. After showing exceptionally unique character during a tasting panel, the 10-year-old barrels were chosen specifically for this year's Birthday Bourbon. The full allotment of the product represents one day's production of Old Forester.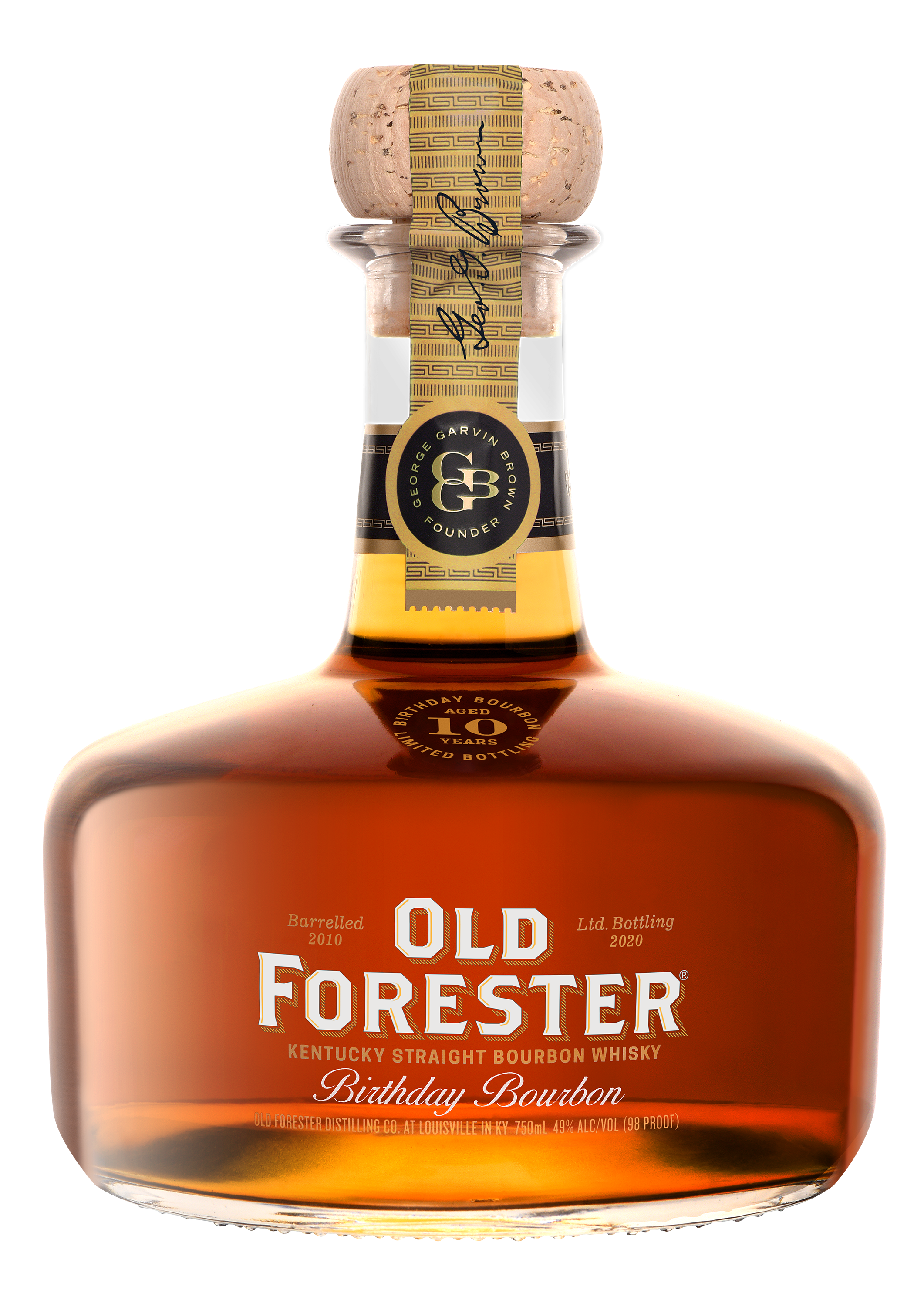 Aroma

A nuanced balance of white floral notes, magnolia and citrus, spiced with vanilla, buttery leather and cocoa powder. Countering the spice are sprinkles of brown sugar, white chocolate shavings, caramel drizzle and hints of tropical fruit.

Taste

Caramel and brittle toffee lead as the tropical character blooms into banana, mango, coconut flakes and macadamia nut.

Finish

Long and delicately drying with a hint of anise.
Respect to the
aging process.
Old Forester 2020 Birthday Bourbon
Old Forester 2019 Birthday Bourbon
Old Forester 2018 Birthday Bourbon
Old Forester 2017 Birthday Bourbon
Old Forester 2016 Birthday Bourbon
Old Forester 2015 Birthday Bourbon
Old Forester 2014 Birthday Bourbon
Old Forester 2013 Birthday Bourbon
Old Forester 2012 Birthday Bourbon
Old Forester 2011 Birthday Bourbon
Old Forester 2010 Birthday Bourbon
Old Forester 2009 Birthday Bourbon
Old Forester 2008 Birthday Bourbon
Old Forester 2007 Birthday Bourbon
Old Forester 2006 Birthday Bourbon
Old Forester 2005 Birthday Bourbon
Old Forester 2004 Birthday Bourbon
Old Forester 2003 Spring Birthday Bourbon
Old Forester 2003 Fall Birthday Bourbon
Old Forester 2002 Birthday Bourbon