Old Forester 1920 Prohibition Style Whisky
loading eRetailer data...
1920 PROHIBITION STYLE
The Volstead Act of 1920 which initiated Prohibition in the USA granted permits to six distillers in Kentucky to continue to bottle bourbon for medicinal purposes. Through one of these permits, Old Forester continued to be produced as medicinal whiskey on Louisville's famed Whiskey Row. It is the only bourbon continuously sold by the same company that has been available for sale before, during and after Prohibition.
During this time, all whiskies had to be bottled at 100 Proof. With a barrel entry proof of 100, the "angel's share" would have created a 115 proof whiskey after maturation. To pay homage to this era, Old Forester presents 1920 Prohibition Style Bourbon at 115 proof to represent the rich flavor profile this bourbon had nearly 100 years ago.
Gold Medal - San Francisco Spirits Competition 2023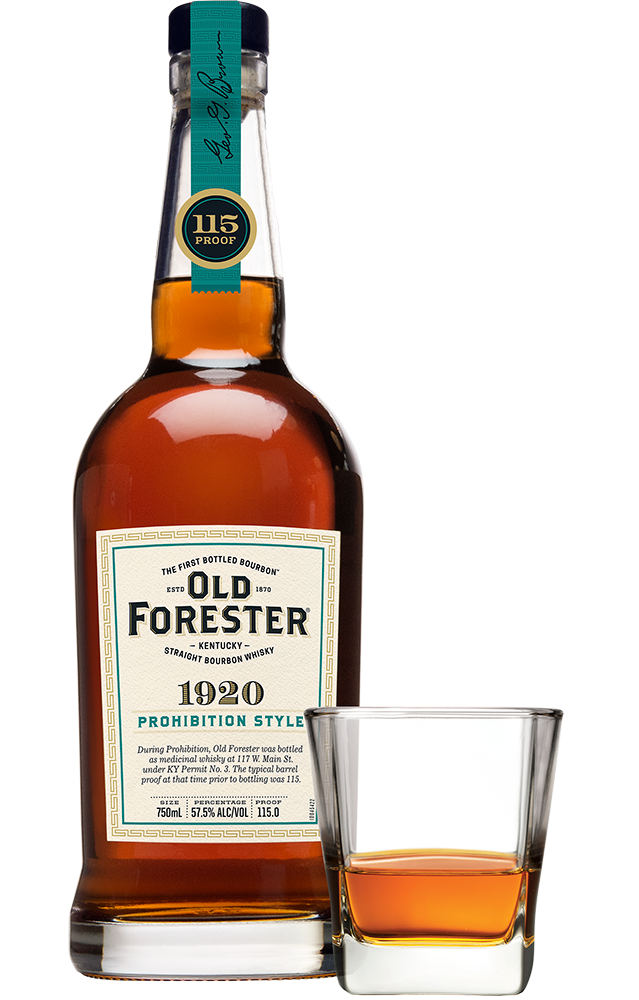 Aroma

An intense medley of cherry preserves, drippy caramel, dark chocolate, thickened maple syrup and seasoned oak spiciness.

Taste

Dark caramel coats layers of malt nuttiness and sweet graham cracker all warmed by green peppercorn and coriander spice brightened with a hint of cedar.

Finish

Tart apple crispness gives way to a long smoky finish full of toasted marshmallow, chocolate and graham cracker sweetness.
You won't find a
finer family.
Old Forester 86 Proof
Old Forester Rye Whisky
Old Forester 1910 Old Fine Whisky
Old Forester 1920 Prohibition Style Whisky
Old Forester President's Choice Bourbon
Old Forester Statesman Bourbon
Old Forester Mint Julep
Old Forester Single Barrel 100 Proof
Old Forester Single Barrel Barrel Proof
Old Forester Single Barrel Rye
Old Forester 2020 Birthday Bourbon
The 117 Series: High Angels' Share
Old Forester 1870 Original Batch Whisky
Old Forester 1897 Bottled in Bond Whisky
Old Forester 100 Proof