Old Forester 2003 Spring Birthday Bourbon
All the barrels were in accelerated heat cycling. They were in the sunlight, by windows, creating prominent caramel spice notes.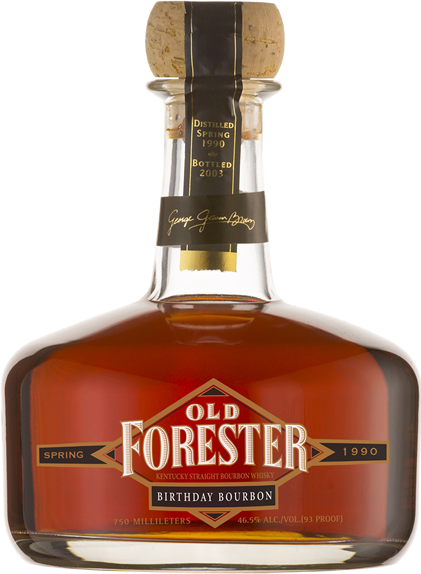 Aroma

Bright toffee with a brilliant orange glow. Sharp, powerful and rich with a deep oak character.

Taste

Tobacco spice, vanilla and layers of dark fruit (raisins) mingle with dashes of black pepper. Rich and smooth. Velvety notes of spice and intense fruit are balanced with oak and sweet confectionary highlights.

Finish

Long and spicy. Clean and warming with no drying effects.
Respect to the
aging process.
Old Forester 2020 Birthday Bourbon
Old Forester 2019 Birthday Bourbon
Old Forester 2018 Birthday Bourbon
Old Forester 2017 Birthday Bourbon
Old Forester 2016 Birthday Bourbon
Old Forester 2015 Birthday Bourbon
Old Forester 2014 Birthday Bourbon
Old Forester 2013 Birthday Bourbon
Old Forester 2012 Birthday Bourbon
Old Forester 2011 Birthday Bourbon
Old Forester 2010 Birthday Bourbon
Old Forester 2009 Birthday Bourbon
Old Forester 2008 Birthday Bourbon
Old Forester 2007 Birthday Bourbon
Old Forester 2006 Birthday Bourbon
Old Forester 2005 Birthday Bourbon
Old Forester 2004 Birthday Bourbon
Old Forester 2003 Spring Birthday Bourbon
Old Forester 2003 Fall Birthday Bourbon
Old Forester 2002 Birthday Bourbon