Old Forester 2010 Birthday Bourbon
These barrels were evenly matured together in the very middle of Warehouse K, on the 5th floor in ricks 42, 43, and 4, surrounded by open space. This environment allowed the barrels to easily breathe during the maturation and develop a rich fruit and spice character.
2011 Ultimate Beverage Challenge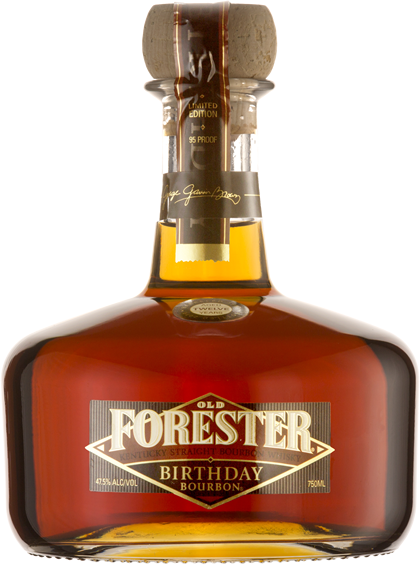 Aroma

Deep caramel brown. Rich hints of cedar, dark chocolate and tropical fruit underscored by caramel and butterscotch notes.

Taste

Crisp cedar and nutty oak mingle with fig, berry and citrus character.

Finish

A long, crisp wood spice note ends with a touch of fruit.
Respect to the
aging process.
Old Forester 2020 Birthday Bourbon
Old Forester 2019 Birthday Bourbon
Old Forester 2018 Birthday Bourbon
Old Forester 2017 Birthday Bourbon
Old Forester 2016 Birthday Bourbon
Old Forester 2015 Birthday Bourbon
Old Forester 2014 Birthday Bourbon
Old Forester 2013 Birthday Bourbon
Old Forester 2012 Birthday Bourbon
Old Forester 2011 Birthday Bourbon
Old Forester 2010 Birthday Bourbon
Old Forester 2009 Birthday Bourbon
Old Forester 2008 Birthday Bourbon
Old Forester 2007 Birthday Bourbon
Old Forester 2006 Birthday Bourbon
Old Forester 2005 Birthday Bourbon
Old Forester 2004 Birthday Bourbon
Old Forester 2003 Spring Birthday Bourbon
Old Forester 2003 Fall Birthday Bourbon
Old Forester 2002 Birthday Bourbon