Old Forester 2005 Birthday Bourbon
For this bourbon, we used a different malted barley supplier. The new barley produced a slightly lighter bodied spirit than usual. Barrels were stored on the 7th floor of Warehouse H, where they were exposed to extremely warm temperatures and dry conditions. The lighter bodied spirit and warehouse condition resulted in a higher than average Angel's Share loss that concentrated the rich toasted and charred oak notes.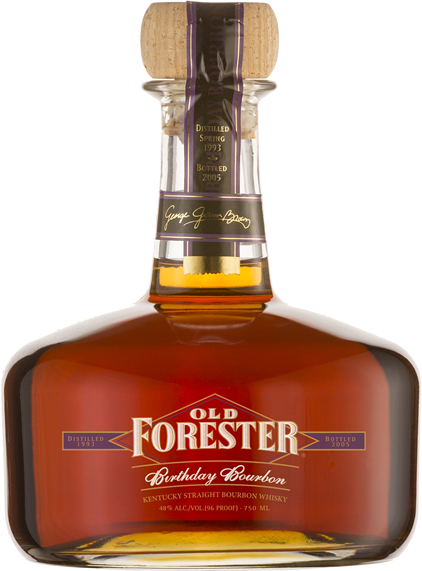 Aroma

Brilliant orange-red. Rich with incredibly sweet vanilla, caramel and maple syrup notes that evolve into a layer of creamy butterscotch.

Taste

Deep and full of light mint and dried fruit notes. Smooth with hints of cedar and oak laced with spice covered over with a delicate candy store selection.

Finish

Very clean and apply crisp with little oak effect – very light for a 12 year old bourbon. Gently warming.
Respect to the
aging process.
Old Forester 2020 Birthday Bourbon
Old Forester 2019 Birthday Bourbon
Old Forester 2018 Birthday Bourbon
Old Forester 2017 Birthday Bourbon
Old Forester 2016 Birthday Bourbon
Old Forester 2015 Birthday Bourbon
Old Forester 2014 Birthday Bourbon
Old Forester 2013 Birthday Bourbon
Old Forester 2012 Birthday Bourbon
Old Forester 2011 Birthday Bourbon
Old Forester 2010 Birthday Bourbon
Old Forester 2009 Birthday Bourbon
Old Forester 2008 Birthday Bourbon
Old Forester 2007 Birthday Bourbon
Old Forester 2006 Birthday Bourbon
Old Forester 2005 Birthday Bourbon
Old Forester 2004 Birthday Bourbon
Old Forester 2003 Spring Birthday Bourbon
Old Forester 2003 Fall Birthday Bourbon
Old Forester 2002 Birthday Bourbon