Old Forester 2006 Birthday Bourbon
This lot of barrels was distilled and barreled one week prior to the 2005 Birthday Bourbon, but was matured for one additional year in the same exact warehouse location. The vintage was presented at the same proof as our 2005, allowing Birthday Bourbon fans to compare and contrast the flavors. While they both exhibit classic the Old Forester taste profile, this expression is naturally spiced with a cool, refreshing hint of spearmint.
2007 Spirit Journal - Five Star Rating "Highest Recommendation"
2007 San Francisco World Spirits Competition - Gold Medal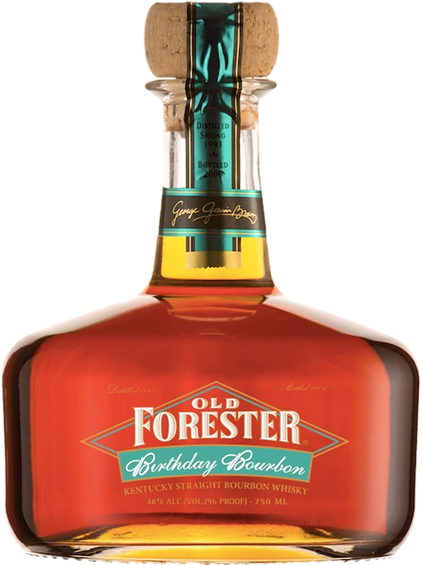 Aroma

Brownish orange – like a fine cognac. Very sweet and powerful with strong vanilla and caramel toffee like notes layering over hints of orange peel and tea leaves.

Taste

Nice balance of oak opens with a hint of spearmint in the depths. Sweet and cool with hints of tea, mint and ripe apple fruit.

Finish

Clean, fruity and a tea-like note.
Respect to the
aging process.
Old Forester 2020 Birthday Bourbon
Old Forester 2019 Birthday Bourbon
Old Forester 2018 Birthday Bourbon
Old Forester 2017 Birthday Bourbon
Old Forester 2016 Birthday Bourbon
Old Forester 2015 Birthday Bourbon
Old Forester 2014 Birthday Bourbon
Old Forester 2013 Birthday Bourbon
Old Forester 2012 Birthday Bourbon
Old Forester 2011 Birthday Bourbon
Old Forester 2010 Birthday Bourbon
Old Forester 2009 Birthday Bourbon
Old Forester 2008 Birthday Bourbon
Old Forester 2007 Birthday Bourbon
Old Forester 2006 Birthday Bourbon
Old Forester 2005 Birthday Bourbon
Old Forester 2004 Birthday Bourbon
Old Forester 2003 Spring Birthday Bourbon
Old Forester 2003 Fall Birthday Bourbon
Old Forester 2002 Birthday Bourbon