Old Forester 2017 Birthday Bourbon
The 2017 Birthday Bourbon barrel selection was drawn from different warehouses and floors. 93 barrels matured together on the 4th floor of G warehouse, and were extremely spice forward. 27 barrels matured together on the 5th floor of K warehouse and contributed rounding sweetness to the blend.  Quite a few barrels basked in the sun from both of these lots, showcasing the effects of maturation along an external wall.
Ultimate Spirits Challenge 2017 - Outstanding, Extraordinary, Ultimate Recommendation
Whiskies of the World Awards 2016 - Gold Medal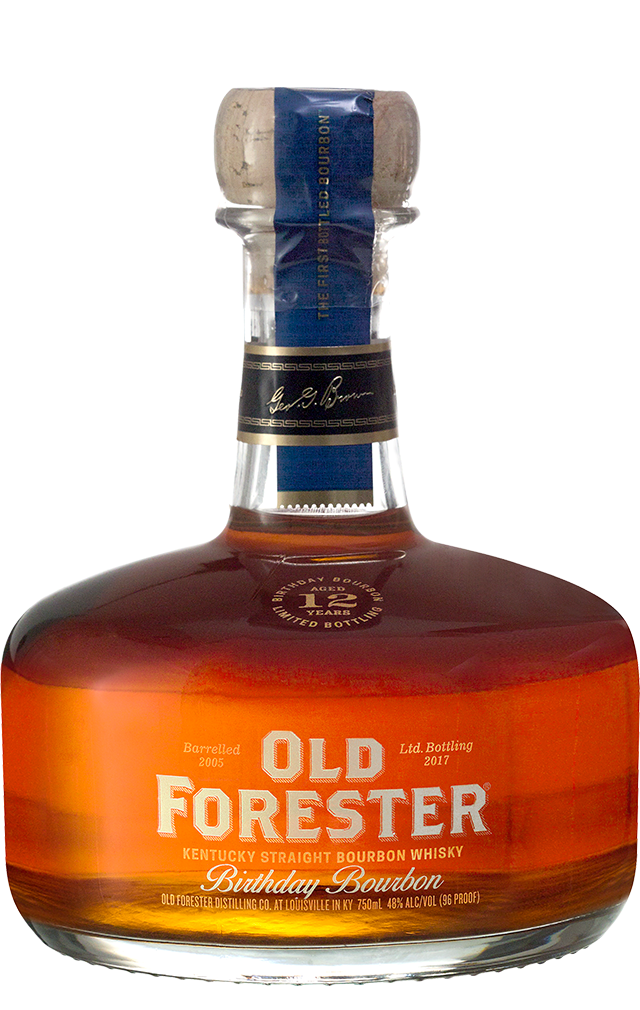 Aroma

Bright golden honey. Sweet toasted oak and black pepper with a heavy suggestion of orange oil and toffee.

Taste

Oak spice and charred black pepper dominate over a subtle core of chocolate custard and kola nut.

Finish

Spicy perimeter mouthfeel that slowly cascades off revealing floral undertones and cocoa powder.
Respect to the
aging process.
Old Forester 2020 Birthday Bourbon
Old Forester 2019 Birthday Bourbon
Old Forester 2018 Birthday Bourbon
Old Forester 2017 Birthday Bourbon
Old Forester 2016 Birthday Bourbon
Old Forester 2015 Birthday Bourbon
Old Forester 2014 Birthday Bourbon
Old Forester 2013 Birthday Bourbon
Old Forester 2012 Birthday Bourbon
Old Forester 2011 Birthday Bourbon
Old Forester 2010 Birthday Bourbon
Old Forester 2009 Birthday Bourbon
Old Forester 2008 Birthday Bourbon
Old Forester 2007 Birthday Bourbon
Old Forester 2006 Birthday Bourbon
Old Forester 2005 Birthday Bourbon
Old Forester 2004 Birthday Bourbon
Old Forester 2003 Spring Birthday Bourbon
Old Forester 2003 Fall Birthday Bourbon
Old Forester 2002 Birthday Bourbon