Old Forester 2007 Birthday Bourbon
This vintage is a balance between the 2006 and 2007 expressions.  While 2005 had heavy cinnamon and baking spice notes, and 2006 had a pronounced mint note, 2007 represents the best of these two years, with a mint note that cools the warm cinnamon spice.
2007 WhiskyFest New York - American Whisky Of The Year
2007 Santé™ Magazine November Issue - Santé Gold Star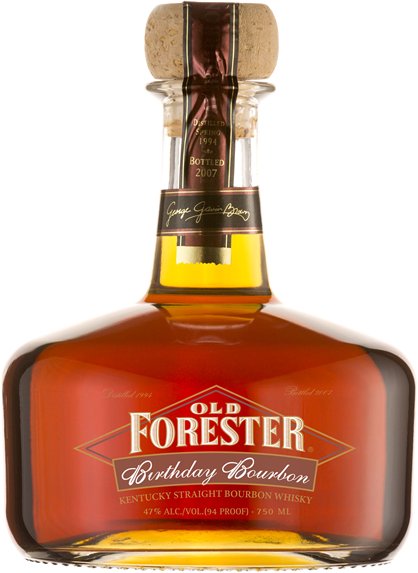 Aroma

Brownish orange – like a fine cognac. Sweet with rich dollops of caramel and vanilla on a cinnamon-raisin bun.

Taste

Sharp cinnamon is cooled by a hint of mint as the bourbon opens up. A balance of dark caramel and rich vanilla coat a ripe apple character.

Finish

Warm, long and very clean.
Respect to the
aging process.
Old Forester 2020 Birthday Bourbon
Old Forester 2019 Birthday Bourbon
Old Forester 2018 Birthday Bourbon
Old Forester 2017 Birthday Bourbon
Old Forester 2016 Birthday Bourbon
Old Forester 2015 Birthday Bourbon
Old Forester 2014 Birthday Bourbon
Old Forester 2013 Birthday Bourbon
Old Forester 2012 Birthday Bourbon
Old Forester 2011 Birthday Bourbon
Old Forester 2010 Birthday Bourbon
Old Forester 2009 Birthday Bourbon
Old Forester 2008 Birthday Bourbon
Old Forester 2007 Birthday Bourbon
Old Forester 2006 Birthday Bourbon
Old Forester 2005 Birthday Bourbon
Old Forester 2004 Birthday Bourbon
Old Forester 2003 Spring Birthday Bourbon
Old Forester 2003 Fall Birthday Bourbon
Old Forester 2002 Birthday Bourbon