Old Forester 2016 Birthday Bourbon
The 2016 Birthday Bourbon barrel selection commemorates the 15th anniversary of the first-ever release. Unlike various previous selections, where barrels were drawn from different warehouses and/or floors and locations within a warehouse, the 2016 release has uniquely matured together on the same floor within the same warehouse.  This year, all of the bourbon matured in a very warm location, giving it a deep, rich oak forward personality.
Ultimate Spirits Challenge 2017 - 96, Extraordinary, Ultimate Recommendation
Cocktail Enthusiast - "You're met with pleasant aromas of oak, cinnamon spice, chocolate and orange peels."
Ultimate Spirits Challenge | Cocktails - Whisky Sour - Drop Dead Delicious - 4 1/2 Stars
IWSC - Silver Outstanding
Whisky Advocate - 90, "This is a year-round front porch sipper."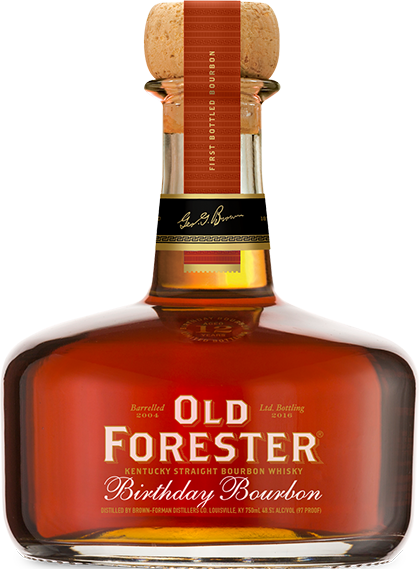 Aroma

Deep reddish umber. Complex and cinnamon wood spiced with nutty chocolate, dark caramel and rich oak notes all brightened with a dash of crisp citrus fruit.

Taste

Mulled spice sweetness and fruity with bright citrus peel highlights.

Finish

Long and warm with mulled fruit character lingering on.
Respect to the
aging process.
Old Forester 2020 Birthday Bourbon
Old Forester 2019 Birthday Bourbon
Old Forester 2018 Birthday Bourbon
Old Forester 2017 Birthday Bourbon
Old Forester 2016 Birthday Bourbon
Old Forester 2015 Birthday Bourbon
Old Forester 2014 Birthday Bourbon
Old Forester 2013 Birthday Bourbon
Old Forester 2012 Birthday Bourbon
Old Forester 2011 Birthday Bourbon
Old Forester 2010 Birthday Bourbon
Old Forester 2009 Birthday Bourbon
Old Forester 2008 Birthday Bourbon
Old Forester 2007 Birthday Bourbon
Old Forester 2006 Birthday Bourbon
Old Forester 2005 Birthday Bourbon
Old Forester 2004 Birthday Bourbon
Old Forester 2003 Spring Birthday Bourbon
Old Forester 2003 Fall Birthday Bourbon
Old Forester 2002 Birthday Bourbon