Old Forester 2004 Birthday Bourbon
Master Distiller Chris Morris allowed the warehouse crew to select the vintage from his list of candidates, making it the only release where the union created the Birthday Bourbon lot.  The barrels chosen were only aged 8 years.  This spicy, complex bourbon was entered into Warehouse L during a cycling period. The interior temperature of the warehouse was warm and humid so the pores of the charred white oak barrel were open. This allowed the new bourbon to soak deeply into the barrel wood where it began to absorb the perfect balance of wood, confectionary and spice character.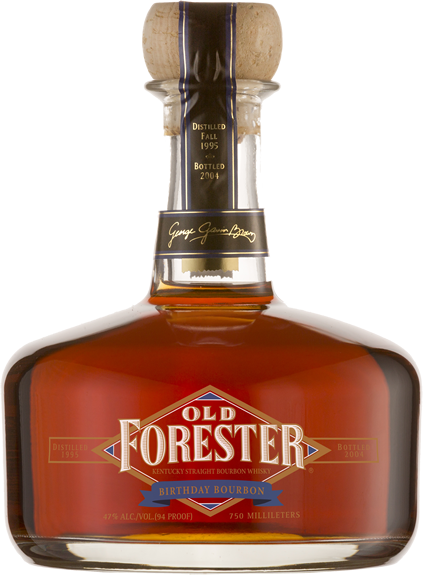 Aroma

Rich chocolate orange. Sharp and intense with oak, vanilla, spice and black pepper notes mingling in a nice balance that open up to reveal a layer of chocolate and maple syrup sweetness.

Taste

Dark fruit and cinnamon spice slowly emerge as the bourbon warms. Sweet and intensely spicy with a touch of rye at first, calms to milk chocolate, nutmeg and cool spicy mint leaf character. Clean and dry with an apple fruit character.

Finish

Long and spicy. Clean and warming with no drying effects.
Respect to the
aging process.
Old Forester 2020 Birthday Bourbon
Old Forester 2019 Birthday Bourbon
Old Forester 2018 Birthday Bourbon
Old Forester 2017 Birthday Bourbon
Old Forester 2016 Birthday Bourbon
Old Forester 2015 Birthday Bourbon
Old Forester 2014 Birthday Bourbon
Old Forester 2013 Birthday Bourbon
Old Forester 2012 Birthday Bourbon
Old Forester 2011 Birthday Bourbon
Old Forester 2010 Birthday Bourbon
Old Forester 2009 Birthday Bourbon
Old Forester 2008 Birthday Bourbon
Old Forester 2007 Birthday Bourbon
Old Forester 2006 Birthday Bourbon
Old Forester 2005 Birthday Bourbon
Old Forester 2004 Birthday Bourbon
Old Forester 2003 Spring Birthday Bourbon
Old Forester 2003 Fall Birthday Bourbon
Old Forester 2002 Birthday Bourbon