Old Forester 2013 Birthday Bourbon
For the 2014 release, the fermenter set had a higher pH setting, which created a distiller's beer that was fruitier and less sour than typical batches. Once distilled and barreled, it was matured in Warehouse I on the 7th floor, where exposure to high summer temperature advanced the ripening of the rich fruit base.
2014 Wine Enthusiast - 94, Top 50 Spirits of the Year.
2013 Whisky Advocate - 91
2013 Serious Eats | Drinks - "My favorite of the last several annual releases.", "The only question is if you can manage to find a bottle before they sell out."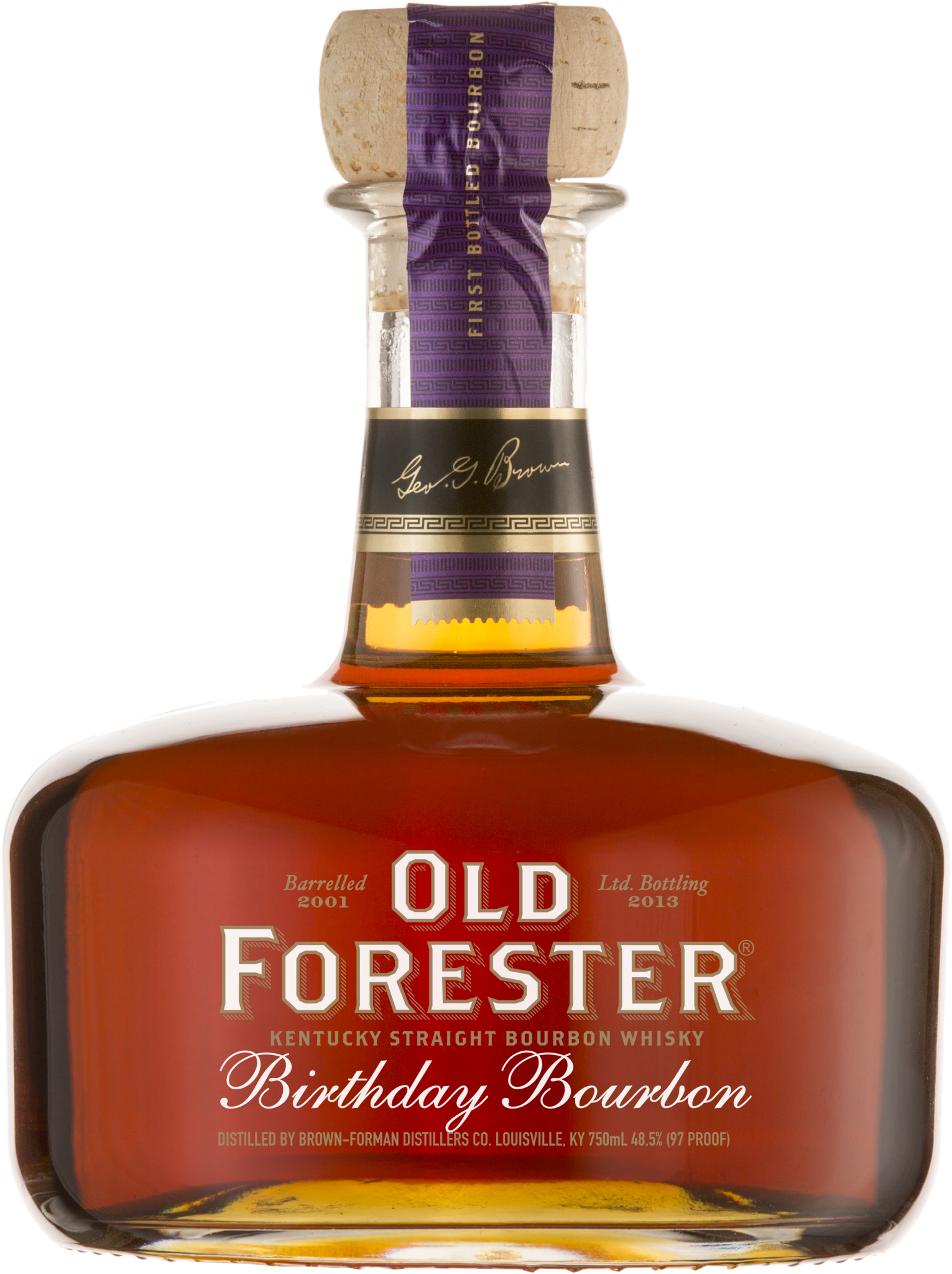 Aroma

A complex combination of rich vanilla bean, caramelized oak, chocolate and toasted coconut coat a deep layer of mixed berry and tropical fruit character.

Taste

Fruity with a delicate nut character, malt and soft oak notes sweetened with a hint of cocoa, toasted coconut and caramel.

Finish

Long and warm with a lingering finish.
Respect to the
aging process.
Old Forester 2020 Birthday Bourbon
Old Forester 2019 Birthday Bourbon
Old Forester 2018 Birthday Bourbon
Old Forester 2017 Birthday Bourbon
Old Forester 2016 Birthday Bourbon
Old Forester 2015 Birthday Bourbon
Old Forester 2014 Birthday Bourbon
Old Forester 2013 Birthday Bourbon
Old Forester 2012 Birthday Bourbon
Old Forester 2011 Birthday Bourbon
Old Forester 2010 Birthday Bourbon
Old Forester 2009 Birthday Bourbon
Old Forester 2008 Birthday Bourbon
Old Forester 2007 Birthday Bourbon
Old Forester 2006 Birthday Bourbon
Old Forester 2005 Birthday Bourbon
Old Forester 2004 Birthday Bourbon
Old Forester 2003 Spring Birthday Bourbon
Old Forester 2003 Fall Birthday Bourbon
Old Forester 2002 Birthday Bourbon