Old Forester 2021 Birthday Bourbon
Old Forester will release the 21st iteration of its limited-edition, vintage-dated Birthday Bourbon on Sept. 2 in celebration of founder George Garvin Brown's birthday. This year marks the 151st year of the company he began in 1870.
The 2021 Birthday Bourbon will be bottled at 104 proof and is made up of 119 barrels, aged 12 years, and barreled on April 16, 2009. After showing exceptionally unique character during a tasting panel, the 12-year-old barrels were chosen specifically for this year's Birthday Bourbon.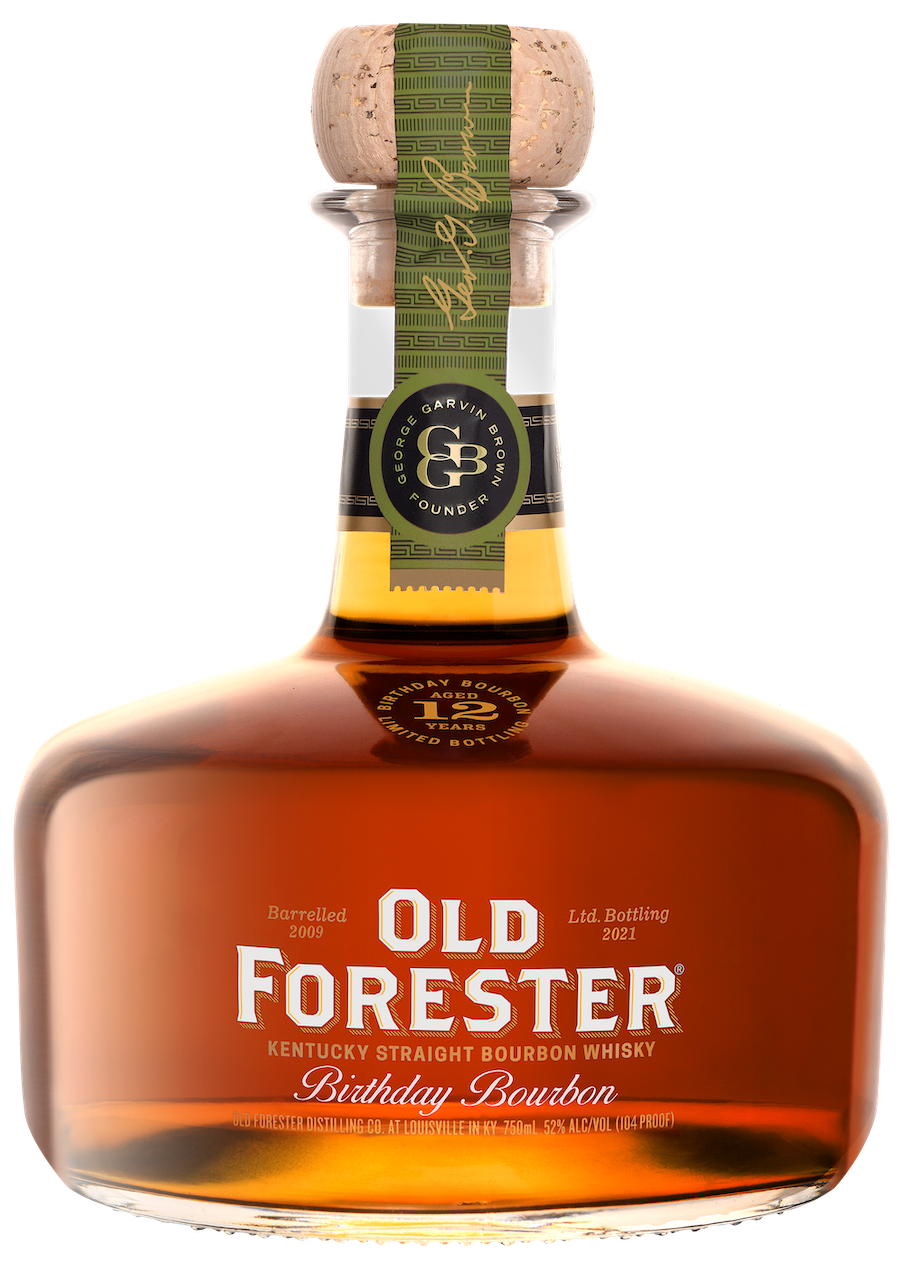 Aroma

A beautiful symphony of berry and dessert components. Red raspberry preserves join plump, juicy blackberries and dried strawberries to set the tone, nestled in a bed of dried herbs and balanced with vanilla creme brulee, subtle pecan, rich maple syrup, and cocoa.

Taste

Rich and inviting, the velvety mouthfeel carries notes of buttery caramel, burnt sugar, and a touch of fresh baked linzer cookie. This silky palate quickly awakens into a bright, peppery, peripheral spice.

Finish

Lengthy and warm with subtle dryness. Subdued notes of chocolate, raisin, and cool herbs linger in the shadow of stark oak spice.
Respect to the
aging process.
Old Forester 2020 Birthday Bourbon
Old Forester 2019 Birthday Bourbon
Old Forester 2018 Birthday Bourbon
Old Forester 2017 Birthday Bourbon
Old Forester 2016 Birthday Bourbon
Old Forester 2015 Birthday Bourbon
Old Forester 2014 Birthday Bourbon
Old Forester 2013 Birthday Bourbon
Old Forester 2012 Birthday Bourbon
Old Forester 2011 Birthday Bourbon
Old Forester 2010 Birthday Bourbon
Old Forester 2009 Birthday Bourbon
Old Forester 2008 Birthday Bourbon
Old Forester 2007 Birthday Bourbon
Old Forester 2006 Birthday Bourbon
Old Forester 2005 Birthday Bourbon
Old Forester 2004 Birthday Bourbon
Old Forester 2003 Spring Birthday Bourbon
Old Forester 2003 Fall Birthday Bourbon
Old Forester 2002 Birthday Bourbon