Old Forester 2022 Birthday Bourbon
Old Forester's 22nd iteration of its limited-edition, vintage-dated Birthday Bourbon created in celebration of founder George Garvin Brown's birthday. This year marks the 152nd year of the company he began in 1870.
The 2022 Birthday Bourbon is presented at 96 proof. After showing exceptionally unique character during a tasting panel, the 11-year old barrels were chosen specifically for Birthday Bourbon. The full allotment of product represents one day's production of Old Forester.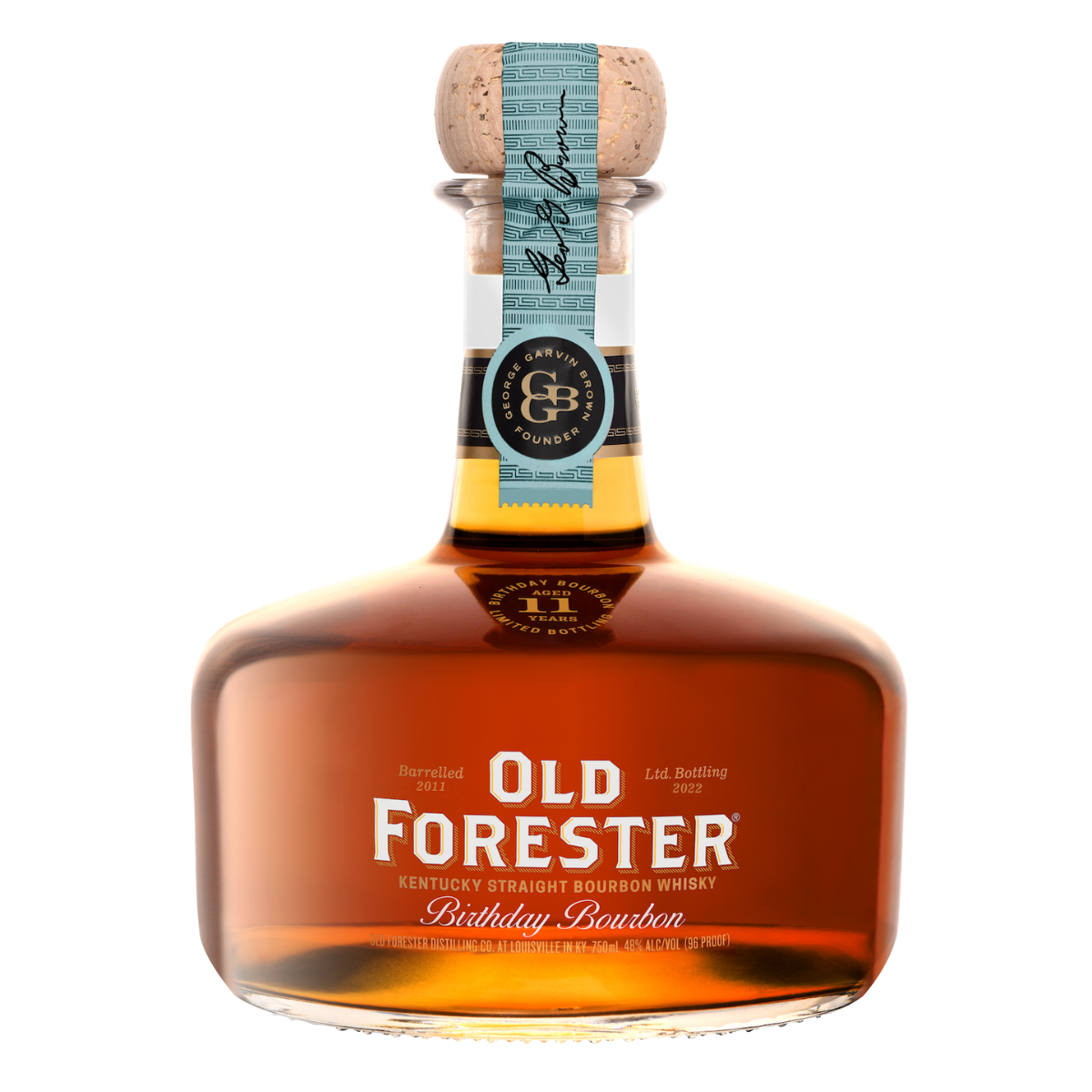 Aroma

Begins with caramelized orange peel and cherry fruit softened with vanilla bean, graham cracker atop rich layers of toasted and charred oak brightened with a touch of cedar.

Taste

Subtle fruit flavor transitions into sweet roasted coffee with hints of dark chocolate and a dash of cocoa with toasted and charred seasoned oak character.

Finish

Smooth and light with velvety coffee and mocha notes with lingering dark chocolate character.
Respect to the
aging process.
Old Forester 2020 Birthday Bourbon
Old Forester 2019 Birthday Bourbon
Old Forester 2018 Birthday Bourbon
Old Forester 2017 Birthday Bourbon
Old Forester 2016 Birthday Bourbon
Old Forester 2015 Birthday Bourbon
Old Forester 2014 Birthday Bourbon
Old Forester 2013 Birthday Bourbon
Old Forester 2012 Birthday Bourbon
Old Forester 2011 Birthday Bourbon
Old Forester 2010 Birthday Bourbon
Old Forester 2009 Birthday Bourbon
Old Forester 2008 Birthday Bourbon
Old Forester 2007 Birthday Bourbon
Old Forester 2006 Birthday Bourbon
Old Forester 2005 Birthday Bourbon
Old Forester 2004 Birthday Bourbon
Old Forester 2003 Spring Birthday Bourbon
Old Forester 2003 Fall Birthday Bourbon
Old Forester 2002 Birthday Bourbon