Brown Forman 150 Decanter
Introducing Brown-Forman 150 Decanter. The most exclusive and rarest Old Forester expression ever released.
This decanter was created to honor our brand's 150th anniversary. It is filled with 12 ½ -year-old bourbon. Hand-selected from six barrels, this liquid spent 150-months in the barrel before being bottled in July of 2020.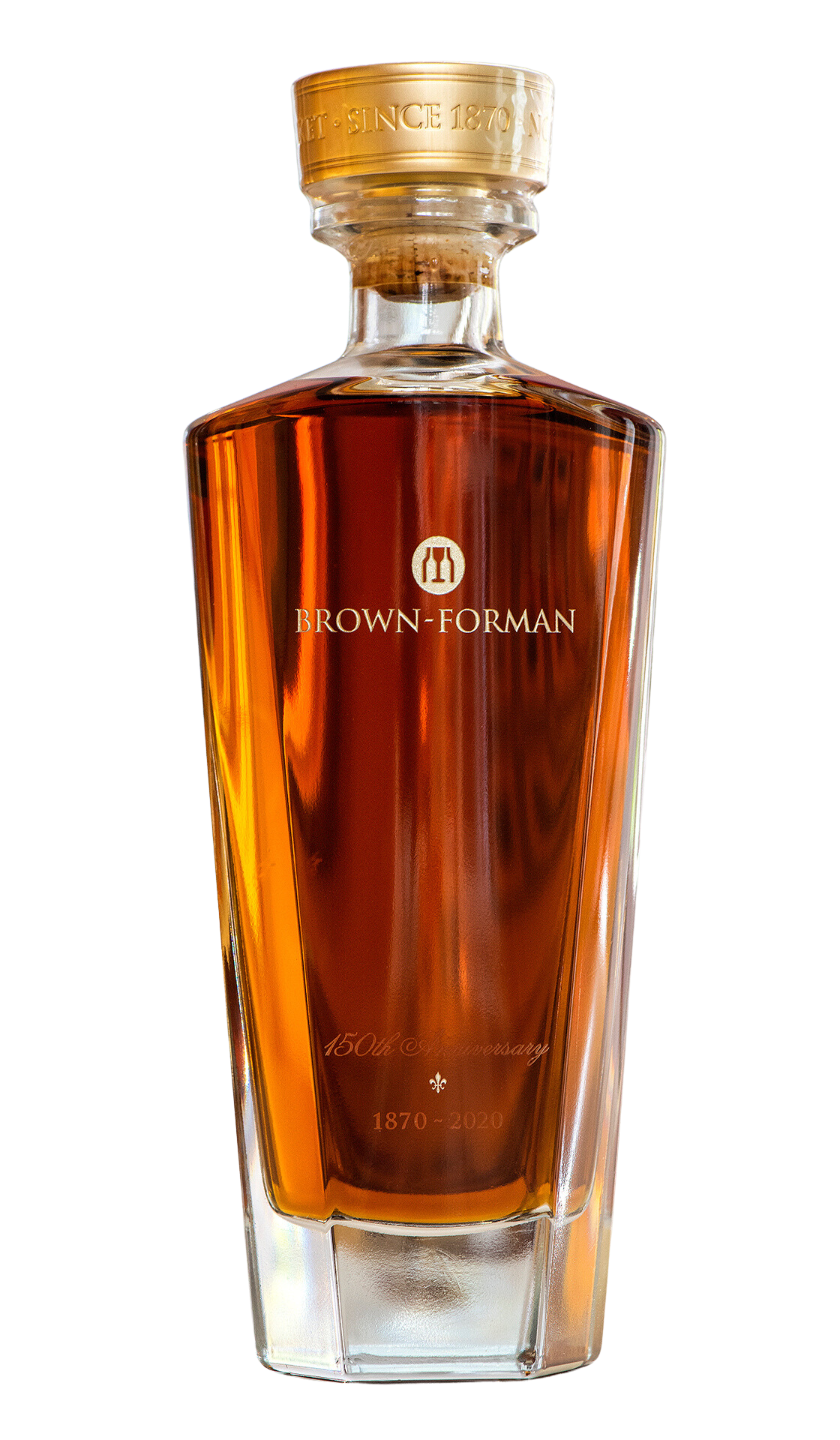 Aroma

Amarena cherry and sticky banana bread pudding are enveloped in buttery leather and rich maple.

Taste

Velvety and rich with decadent chocolate, raspberry preserves, caramel, and a touch of hazelnut.

Finish

Full bodied and characteristically dry. Tobacco leaf, caramelized sugar atop cème brûlée, rounding out with a hint of dried herbs and char.
Old Forester Hummingbird Bitters
Old Forester Smoked Cinnamon Bitters
Old Forester Bohemian Bitters
Old Forester Salt & Pepper Tincture
Old Forester Oleo Saccharum Syrup
Old Forester Perfect Old Fashioned Syrup
Old Forester 86 Proof
Old Forester 1920 Prohibition Style Whisky
Old Forester 100 Proof
Old Forester 1870 Original Batch Whisky
Old Forester 1897 Bottled in Bond Whisky
Old Forester Mint Julep
Old Forester Statesman Bourbon
Old Forester 2002 Birthday Bourbon
Old Forester 2003 Fall Birthday Bourbon
Old Forester 2004 Birthday Bourbon
Old Forester 2005 Birthday Bourbon
Old Forester 2003 Spring Birthday Bourbon
Old Forester 2006 Birthday Bourbon
Old Forester 2007 Birthday Bourbon
Old Forester 2008 Birthday Bourbon
Old Forester 2009 Birthday Bourbon
Old Forester 2010 Birthday Bourbon
Old Forester 2011 Birthday Bourbon
Old Forester 2012 Birthday Bourbon
Old Forester 2013 Birthday Bourbon
Old Forester 2014 Birthday Bourbon
Old Forester 2015 Birthday Bourbon
Old Forester 2016 Birthday Bourbon
Old Forester 2017 Birthday Bourbon
Old Forester President's Choice Bourbon
Old Forester 2018 Birthday Bourbon
Old Forester 1910 Old Fine Whisky
Old Forester Rye Whisky
Old Forester 2019 Birthday Bourbon
Old Forester 2020 Birthday Bourbon
The 117 Series: High Angels' Share
Old Forester Single Barrel 100 Proof
Old Forester Single Barrel Barrel Proof
Old Forester Single Barrel Rye
Old Forester 2021 Birthday Bourbon
117 Series: Warehouse K
117 Series: Whiskey Row Fire
Old Forester 2022 Birthday Bourbon
Old Forester King Ranch Edition™
117 Series: 1910 Extra Extra Old
117 Series: Warehouse H
117 SERIES: 1910 EXTRA OLD
2023 Birthday Bourbon
Brown Forman 150 Decanter